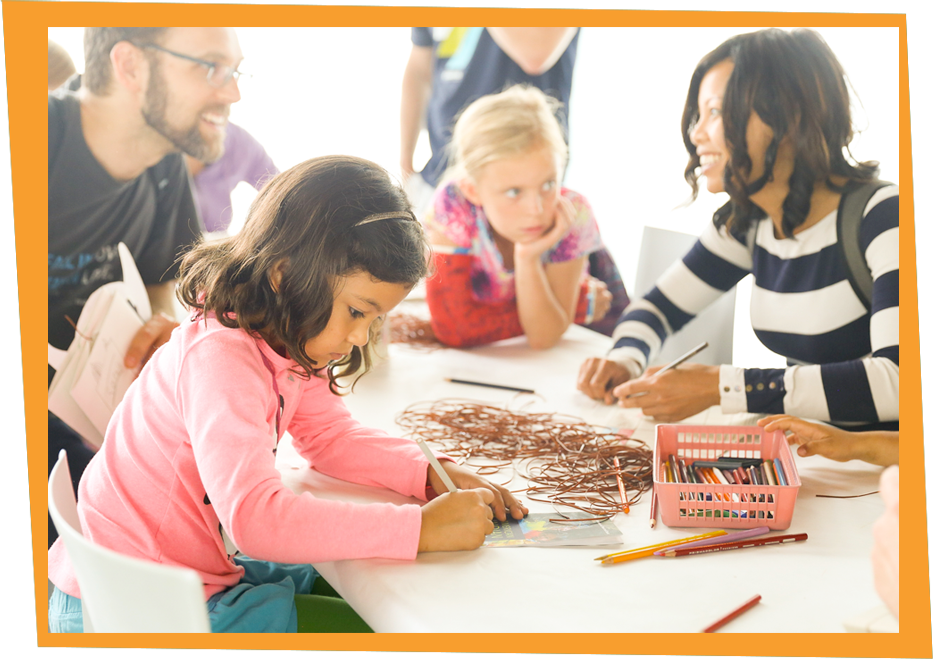 Tips for Your Family
Short and repetitive visits are more effective and exciting for children. It is more valuable to view and discuss a few art objects rather than trying to see all the art at once. Try just 30 minutes to 2 hours at a time. The museum is free, so come often!
Bags and Supplies
Backpacks, bags or large purses must be carried by hand or worn over one shoulder. Or, they may be stored for free in the Bloch Lobby Coat Check. Baby front carriers and strollers are welcome.
Families may bring paper and pencils to sketch favorite art objects in the museum. Please, no pens, paint, crayons or markers allowed.
Please don't touch
Why can't we touch the art?
Even clean hands leave fingerprints that degrade materials over time.
Please tell your children they can protect the works of art by just using eyes, ears and minds! Remember to stay at least an arm's length away from art objects.
Restrooms
Family restrooms are located on the Lobby Level near Atkins Auditorium. Changing stations are located in every woman's restroom and in the men's restroom on the Plaza level of the Nelson-Atkins Building.
Need a Break?
Relax on benches in the Ford Learning Center, the Bloch Lobby, Kirkwood Hall or the comfortable seating on the Mezzanine just up the ramp from the Info Desk in Bloch Lobby. The Donald J. Hall Sculpture Park is a favorite place to picnic and play.
Games and Activities
How can I encourage my children to look?
Ask questions that allow children to use their imaginations.
What is the story being told in the painting?
What is the person in the painting thinking?
What colors do you see in the painting? Are the colors exciting or peaceful?
Why do you think the artist wanted to paint this scene?
How do you feel when you look at this sculpture?
How would the sculpture move if it came alive?
Look and Remember
Have your child pick their favorite art object. Ask them to look closely at it for two minutes. Next, have them turn around while you ask them questions about the art object. Start with easy questions to test their memories. Gradually become specific to make the game more challenging! Then change places and take turns.
Twenty Questions
Have your child secretly choose an art object within a gallery. Begin to ask "yes or no" questions until you discover the art object your child picked. You only get twenty questions!
Postcard Game
Swing by the Museum Store and have your child pick out a few of their favorite postcards. Then go on a hunt to find the art objects in the museum. The postcards are souvenirs of their visit and can be collected in an album.
Sketch in the Galleries
Take a seat and have your children sketch a few of their favorite art objects. Encourage them to look closely at patterns, shapes and lines.